Sonic Maker
From Sonic Retro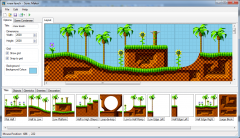 Sonic Maker is a work in progress PC game creation program made by Lapper, which began in around 2010. Its purpose is to simplify the process of creating a Sonic level. It's designed to be a user-friendly 'point and click' level editor complete with common objects including hazards, rings, and item boxes. It's easy-to-use interface allows users to simply choose and place items in a level grid, and then to see them in action while testing and playing.
Current Features
Create levels by editing bezier curves
Auto generates terrain graphics.
Add objects and decorations via point and click.
Save, load, and play levels all from within the editor.
Videos
Update videos to Sonic Maker on it's YouTube channel: Sonic Maker's YouTube channel
Downloads [OLD]
Version 4 is yet to be released.
Prior versions
Credits
Screenshots