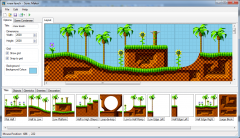 Sonic Maker was a work in progress PC game creation program made by Sonica. It's main purpose was to simplify the process of creating a Sonic level. It was designed to be a user-friendly 'point and click' level editor offering common objects, including platforms, rings, boxes, and loops. It's easy-to-use interface allowed users to simply choose and place items in a level grid, and then to see them in action while testing in the runner that accompanies the editor. unfourtounaley, the development seems to be dead.
Runner Engine
The 'Runner' for Sonic Maker version 3, was also being developed in Game Maker by a collaborative partner; This is a much more advanced engine, and can support dynamic changing of the terrain, as it uses shapes. The shape system is also the new collision placement system in the editor. The runner for versions 1 & 2 were based off of the newer Sonic Dash engine.
Current Features
Sonic Maker currently allows the user to create levels by point and click, save levels, export levels and play levels.
Videos
Update videos to Sonic Maker on it's YouTube channel: SonicaMaker's YouTube channel
Downloads
Prior versions
Production Credits
Screenshots